I love shrimp.  It's a fact that anything tasty that includes shrimp is also a favorite of mine.  Shrimp gumbo, shrimp cocktails, shrimp rolled in bacon and grilled… Actually, I have never had the last one but I wonder if it is possible and if it would taste good.  My newest meal from scratch is making Alfredo of any type, but shrimp Alfredo is my favorite Alfredo to date.  It really isn't too difficult to make and very rich and filling.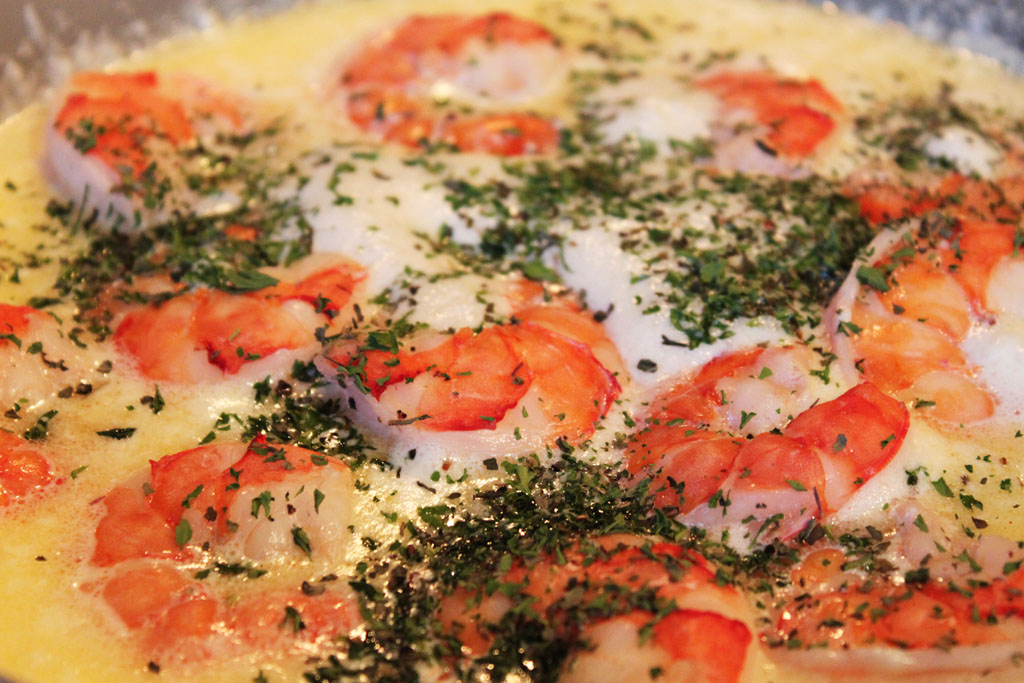 How I make it is kinda quirky and possibly not correct, but the result is always tasty.  I start by making a bechamel sauce (heavy on the cheese, especially old, stinky cheeses like aged English cheddar or a nutty aged Gouda), then modify it to make it into the alfredo sauce by adding half heavy whipping cream and half 2% milk.  A recipe very similar to mine is listed below.  And I add shrimp to it at the end, to stew in the cheesy sauce.
Shrimp Fettucine Alfredo – courtesy of Allrecipes.com
Prep Time: 20 Minutes
Cook Time: 20 Minutes
Ready In: 40 Minutes
Servings: 6
INGREDIENTS:
1 pound fettuccini pasta
1 tablespoon butter
1 pound cooked shrimp – peeled and deveined
4 cloves garlic, minced
1 cup half-and-half
6 tablespoons grated Parmesan cheese (I use closer to a 3/4 cup of cheese total but add and taste a little at a time to get the right amount)
1 tablespoon chopped fresh parsley
salt to taste, pepper to taste (optional)
DIRECTIONS:
Bring a large pot of lightly salted water to a boil. Add pasta and cook for 8 to 10 minutes or until al dente; drain.
In a large skillet, saute shrimp and garlic in the butter for about one minute. Pour in half and half; stir.
Sprinkle Parmesan cheese in one tablespoon at a time, stirring constantly.
After all Parmesan is added, mix in parsley and salt. Stir frequently making sure it does not boil. Sauce will take a while to thicken.
When sauce has thickened, combine with cooked pasta noodles; serve hot.
Enjoy!